Sanitization & Cleaning Services in Southwest Houston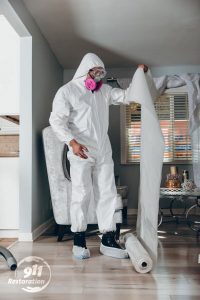 The coronavirus pandemic continues to be top of mind for individuals and property owners throughout Southwest Houston. Without question, the virus has upended our way of life and required us to quickly adapt to new routines. Fortunately, Texans are resilient, and we will get through this together. But we must be vigilant and do all we can to limit the spread of coronavirus in our communities.
If you are concerned about potentially exposing your home or business to the virus, there are many preventative measures you can take.
Make sure all members of your household maintain diligent hygiene practices. Wash your hands frequently and for twenty seconds at a time, especially after returning from a public space. If there is a high-risk individual in your home, make sure that person has a protected area of their own. Other family members should wear masks and gloves when interacting with a vulnerable relative and when entering that person's room. Disinfect all high-touch surfaces often. This includes doorknobs, countertops, and remote controls.
If you own a retail facility, office space, or any other commercial property, the burden of disinfection can be overwhelming. For the safety of your guests, your staff, and yourself, establish a strict face covering policy that applies to both employees and customers. Encourage social distancing and consider providing coronavirus testing for your staff if possible and appropriate for your industry. Your workers and buyers all look to you for reassurance that you are doing all you can to limit their risk of exposure in your facility. A consistent sanitization and disinfection schedule is a great way to put their minds at ease.
911 Restoration of Houston can help. We provide both residential and commercial sanitization in Sugar Land, Missouri City, Katy, and the surrounding area. Our certified disinfection technicians are trained to follow CDC and EPA protocols. They provide office deep cleaning, sanitization for large commercial facilities, home disinfection, and more. They also treat you with respect and compassion. Our staff recognizes the tremendous pressure property owners are under at this time. It's never been more important to maintain a clean and sanitized business. And yet, the guidelines regarding coronavirus spread prevention change every day. We're here to provide clarity and assistance. Our sanitization technicians serve you with complete transparent, open communication, and genuine care.
Southwest Houston will get through this. In the meantime, call 911 Restoration for reliable sanitization and cleaning services in Sugar Land and beyond.