Disaster Restoration in Southwest Houston
You do not have to get through this disaster alone.
Whatever it is—a tornado, a flood, a fire—911 Restoration of Houston is always here for you. Our IICRC-certified team is prepared to handle even the most obscure or unexpected disasters.
In fact, we provide emergency restoration 24 hours a day, 364 days a year. Call us at 2:00 a.m. or on a holiday, and we will still be there in 45 minutes or less, guaranteed.
Every one of our disaster restoration technicians is extensively trained in cleanup and property repairs. They do everything, including: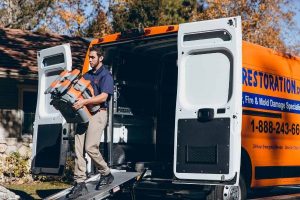 We serve both residential and commercial properties with disaster restoration in Sugar Land, Katy, Missouri City, and the surrounding Southwest Houston area. Our ultimate goal is to turn your nightmare into a Fresh Start. This is why our workers provide more than cleanup and water removal. Our highly skilled team also covers structural repairs, from your roof to your sheetrock.
911 Restoration of Southwest Houston is locally owned and operated. We know that when you choose to work with us, you're placing your greatest asset in our care. We take that responsibility very seriously. Whether we're providing water damage restoration or fire cleanup, you can count on us to treat your property as if it were our own.
When you've been struck by an out-of-nowhere disaster, recovery can seem impossible. But with 911 Restoration on your side, this is the beginning of an exciting new chapter. Call us for compassionate disaster restoration in Sugar Land, Katy, and beyond.
Your 24-Hour Emergency Restoration Company
We provide 24/7 emergency restoration for one very simple reason:
Cleanup can't wait.
If you've been hit by a tornado, storm, or any other source of water damage, you need help immediately. Water seeps into the structure of your property, causing major problems from within. If you don't get swift water damage restoration service, you're likely to incur costly damages.
Our water damage restoration staff puts themselves in your shoes. They understand the urgency you feel, and they mirror that urgency in their immediate response and quick service.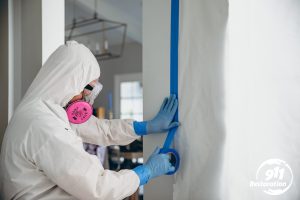 Their first order of business is always to pack out and store any belongings that could potentially be harmed due to your disaster. Once these items are safely stored, the water damage restoration Houston crew tackles emergency tasks such as boarding up, storm repair, or roof repair. They remove all water from your property swiftly. Then, they use professional blowers to dry the structure.
Once the immediate need for water extraction has been addressed, our technicians focus on fully restoring your property. If there is any risk of contamination, they sanitize the space. If you require any structural repairs, they take care of those issues personally. They even inspect for mold and remove any infestations they discover.
Speed is a big part of what we do at 911 Restoration. But we also care about providing thorough disaster restoration.
For a Fresh Start, call 911 Restoration of Southwest Houston.
Does Your Insurance Cover Disaster Restoration in Sugar Land?
If you don't know which emergency restoration services your insurance policy covers, don't worry. We're here to help you figure it out.
We begin each disaster restoration job by providing a free visual inspection (for property owners only). This zero-obligation service allows you to understand the extent of your damage and what it will take to make a full recovery. Our emergency restoration expert lays out your options, empowering you to make the best decision for your home or business.
Once we have determined the best way to proceed, a member of our disaster restoration staff offers a free insurance consultation. They review your policy and explain your coverage in clear terms. You learn exactly which services your provider is responsible for and which costs fall to you.
Then, we make sure you get every penny you deserve. We guide you through inventory and loss itemization. We oversee the paperwork process and file a claim on your behalf. And we even bill your provider directly.
Our primary mission at 911 Restoration of Southwest Houston is to serve the customer as well as the property. Our disaster restoration service gets you through this process swiftly and with as little stress as possible.
If you need emergency disaster restoration in Sugar Land, Southwest Houston, or the surrounding areas, choose the company that puts you first. Choose 911 Restoration of Southwest Houston.
Serving the communities of Katy, Missouri City, Richmond, Stafford, Sugar Land, and the surrounding area.
911 Restoration of Southwest Houston is located at 20770 Westheimer Pkwy Suite 502 Katy, TX 77450. Call us today at (346) 200-4763 for a Fresh Start!