Sewage Backup and Cleanup Southwest Houston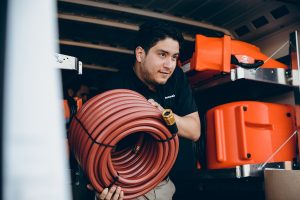 A sewage backup can come out of nowhere. You might wake up in the middle of the night to the stench of toilet water. You could walk into your place of business at noon on a Sunday and discover a horrifying sewage flood. No matter when or where you face this property nightmare, one thing is always certain:
911 Restoration of Houston is here for you.
We provide 24/7 emergency sewage backup cleanup in Sugar Land, Missouri City, Katy, and the surrounding area. Our sewer water removal Houston crew guarantees an arrival time of 45 minutes or less, so you're never left staring at the clock, wondering when help will get there.
Our sewage restoration service is comprehensive, covering everything you need for a Fresh Start. Highly trained sewage cleanup experts handle water removal, structural drying, and sanitization. They even inspect for mold, handle mold remediation, and repair damages themselves.
While we're backed by the resources of a national company, 911 Restoration of Southwest Houston is locally owned and operated. The people overseeing your sewage restoration job are members of your own community. Everyone at 911 Restoration considers you a neighbor, and we consider your home or business an essential part of Southwest Houston.
We serve both residential and commercial properties throughout the region. Our business is licensed, insured, bonded, and IICRC certified. We work with all insurance providers and even offer a free insurance consultation so you know exactly what to expect.
If you need speedy water damage restoration, don't settle for a basic water removal company. Choose the contractor who works hard to give you clear answers and a Fresh Start. Call 911 Restoration of Southwest Houston.
Swift Sewage Water Removal in Sugar Land and Surrounding Cities
Speed is everything when it comes to water damage restoration. Standing water leads to a wide range of damages, including staining, rotting, warping, and mold development.
Our sewage backup cleanup crew understands the urgency of your situation. They stand by their 45-minute response time guarantee, even in the dead of night.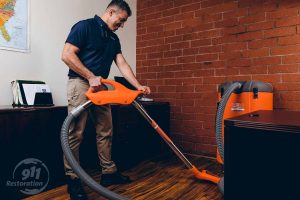 When our water damage restoration workers arrive on the scene, they promptly pack away any items at risk of harm. Our ultimate goal is to minimize your damages so sewage restoration can be completed quickly and at a limited cost to you. Once any at-risk items are cleared away, the water damage restoration crew begins sewage water removal. They sanitize the area completely and bring in professional blowers to dry the structure to its core.
You can expect fast service no matter what type of property you own. We offer 24/7/365 sewage backup cleanup to both residential and commercial property owners. Our water damage restoration crew services everything from old homes to large retail facilities. Whoever you are, whenever you need us, we're there.
For fast, quality sewage cleanup in Sugar Land, Missouri City, and beyond, call 911 Restoration of Southwest Houston.
Comprehensive Sewage Cleanup for a Fresh Start
A full recovery from sewage contamination requires more than water removal. You need comprehensive service from the company that does it all.
Our sewage backup cleanup techs go to great lengths to fully sanitize your property after a sewer flood. When blackwater enters your property, it brings countless microorganisms with it. A sewage backup contaminates your home or office with parasites, bacteria, and viruses.
This is why you should get as far from the affected area as possible while you call our sewage cleanup experts. Keep pets, children, and other adults from the flooded room as well.
After our sewage backup cleanup crew removes the water, they disinfect the space so you can breathe easy. Then, they conduct structural testing to make sure there is no lasting damage. Sometimes, even the fastest sewage cleanup service cannot prevent water damage. If our experts discover any problems, they handle repairs themselves.
Finally, the sewage restoration crew completes cleanup with a mold inspection. Mold grows quickly after any type of water damage incident. To make sure they truly leave you with a fresh, clean property, our team examines the area for infestation. If they find growth, they take care of mold remediation personally.
A sewage backup has a way of making you feel like your home or business can never be a refuge again. Once black water is on your property, the entire space feels permanently contaminated.
Don't worry. We're here to restore your home or business to its former glory. Let 911 Restoration give you the Fresh Start you deserve.
Serving the communities of Katy, Missouri City, Richmond, Stafford, Sugar Land and surrounding area.