Water Damage Restoration in Southwest Houston
911 Restoration of Southwest Houston
For water damage restoration in Houston, fire cleanup, mold remediation, or any other property disaster, make 911 Restoration of Southwest Houston your first and only call.
911 Restoration is a nationwide company with a reputation for expert restoration and compassionate customer care. Your Southwest Houston branch is owned and operated by members of your own community. We are personally invested in providing top-quality water damage restoration, fire cleanup, and mold removal in Sugar Land, Missouri City, and the surrounding area. To us, you're not just a customer. You're a neighbor who deserves a Fresh Start.
At 911 Restoration of Southwest Houston, we offer a Fresh Start with our comprehensive selection of property damage restoration services, including but not limited to:
Whether you're a Southwest Houston homeowner or business owner, 911 Restoration of Southwest Houston is your Fresh Start! We'll communicate with you throughout the entire process, help answer questions related to insurance, and restore your property to its pre-damaged condition. One of our IICRC-certified teams is dispatched within 45 minutes of your call! Contact us today, and one of our friendly representatives will assist you in finding the nearest Southwest Houston location.
We take your disaster situation as seriously as you do. You can reach our emergency technicians at any hour of the day or night, 365 days a year. We even guarantee an arrival time of 45 minutes or less. Call us at (346) 200-4763 and allow us to offer you a free visual inspection.
We are licensed, insured, and bonded. We provide a free visual inspection (for property owners only) and free insurance consultation. Whether you're dealing with a ceiling leak or tornado damage, we understand that any property disaster is a serious concern. Your greatest asset is at stake, and we do all we can to offer swift solutions and peace of mind.
For the best property restoration in Sugar Land, Katy, and beyond, call 911 Restoration at (346) 200-4763.
Water Damage Restoration In Southwest Houston
From pipe bursts to ceiling leaks, you can make a complete recovery from water damage by calling 911 Restoration.
We provide comprehensive water damage restoration in Sugar Land, Missouri City, Stafford, and the surrounding area. Our flood restoration Houston crew arrive at your property 45 minutes or less—even if you call in the dead of night. They cover a wide range of services, including boarding up, roof repair, storm repair, leak detection, and water extraction.
Beyond water removal and structural drying, our technicians also ensure a full recovery with structural repairs and mold removal. By the time they leave your property, your home or business feels as fresh and clean as the day you bought it.
Water damage restoration doesn't have to be a headache. Call us now for fast, thorough flood cleanup.
Yang Liu
"The lady answered the phone call was very helpful and patient. I would give her 1000 stars if possible. She was definitely one of the best customer service representatives I have ever met. We were able to get the free inspection the day after. The technician did a thorough professional inspection for free."
Sanitization Services and Disinfection Solutions
Water damage in Southwest Houston can lead to the area in need of sanitizing. Property owners are under a lot of pressure to maintain a sanitized environment for family members, employees, and customers. If you're overwhelmed by the burden of disinfection after a water damage restoration project, we can help!
Our sanitization and disinfection crew is trained in all CDC and EPA guidelines and protocols. They have experience deep cleaning offices, sanitizing home environments, and disinfecting retail stores and a wide range of other commercial facilities.
Of course, the team at 911 Restoration of Southwest Houston is compassionate and communicative. We know how challenging it is to care for your property in the midst of a global pandemic. Our disinfection crew does everything possible to put your mind at ease with safe practices and transparent service.
You don't have to navigate property sanitization alone. By all means, call 911 Restoration for the help you deserve.
Mold Removal In Southwest Houston
If you think there is an infestation anywhere on your property, reach out to our mold inspection crew right away.
Our technicians examine your home or business space, uncovering even the most hidden colonies. They use advanced methods to remove your infestation and dehumidify the structure where it grew. Naturally, this helps prevent a recurrence. The staff even repairs all compromised materials.
It is extremely important to realize a mold inspection after water damage restoration is a crucial step in the process. The longer you go without professional mold remediation, the greater the damage and threat to your health.
For the best, most reliable mold removal in Sugar Land, Katy, and beyond, call mold remediation company Houston at (346) 200-4763.
Sewage Backup Cleanup
A sewage backup can feel like a waking nightmare. Between the stench, bacteria, and threat of water damage, this incident is an urgent situation. We understand. With this in mind, our sewage clean-up technicians are available 24/7/365. They rush to your home or business the moment your call comes in, arriving in 45 minutes or less.
911 Restoration of Southwest Houston is more than a sewage removal company. We work hard to minimize your damage and do everything necessary to leave you with a clean, strong property. After our sewage backup cleanup crew extracts the sewer water, they bring in professional fans to dry the area. Finally, they sanitize your space and even inspect for mold.
In the event that there are any permanent damages or mold growth, our workers handle the issue themselves. They repair or replace compromised materials, and they conduct mold removal personally.
A sewage backup only feels like the end of the world. With 911 Restoration of Southwest Houston on your side, you can look forward to a Fresh Start.
Fire and Smoke Damage Restoration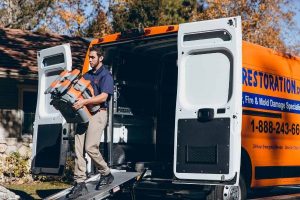 If you need fire damage restoration in Sugar Land, Missouri City, Katy, Richmond, or beyond, call us today.
911 Restoration of Southwest Houston is more than a fire cleanup service. We provide comprehensive fire restoration in Houston, from smoke removal to structural repairs. Our technicians treat your property with the care it deserves. They even pack out and store at-risk belongings to prevent additional losses during fire cleanup.
Not to mention, our fire damage restoration services include soda blasting, smoke and odor removal, dish cleaning, furniture cleaning, building repairs, and more. We even handle water damage restoration in the event of a fire hose flood.
Above all, we serve you with our full attention and compassion.
If you need fire restoration or puff back cleanup, call the company that does it all. Call 911 Restoration of Southwest Houston at (346) 200-4763.
Disaster Restoration In Southwest Houston
Many property owners aren't sure where to turn when disaster strikes. An event like a tornado can cause a range of damages, including structural damage and water damage. It may seem like you have to wrangle several different contractors to make your property new again, but you don't. Not with 911 Restoration of Southwest Houston only one call away.
Our disaster restoration technicians can handle any property nightmare. These experts are trained in all areas of home and business restoration. Additionally, they handle the flood cleanup, smoke removal, mold remediation, sewage extraction, sanitization, structural repairs… whatever it takes to restore your property.
In fact, at 911 Restoration, our goal is to provide a Fresh Start for our neighbors in need. We do whatever it takes to put your mind at ease and leave you with a property that feels brand new.
Commercial Restoration In Southwest Houston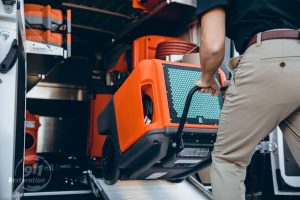 When you call a contractor to restore your business property, you're not just ordering a service. You're entrusting someone with your greatest asset.
Fortunately, at 911 Restoration, we understand how much your commercial property means to you. We also understand the importance of providing immediate attention and high-quality service so you can get back to work and maintain your reputation in the community.
As a matter of fact, that's why we provide 24-hour emergency service, guarantee a 45-minute response time, and train all workers extensively.
Our commercial water remediation Houston staff works swiftly and thoroughly to make your business feel new again. They do it all, including water damage restoration, mold remediation, fire cleanup, sewage restoration, disaster restoration, and more. We also provide disinfection and sanitization aligned with the latest guidelines of the CDC and EPA.
Serving the communities of Katy, Missouri City, Richmond, Stafford, Sugar Land, and the surrounding area.
911 Restoration of Southwest Houston is located at 20770 Westheimer Pkwy Suite 502 Katy, TX 77450. Call us today at (346) 200-4763 for a Fresh Start!