Mold Removal in Southwest Houston, Texas
If you believe there is mold growing in your home or business, do not panic. Just call 911 Restoration of Southwest Houston.  We are highly trained in the safest methods of mold decontamination. We conduct a complete mold inspection to ensure every patch of growth is found and eliminated. We even provide services to prevent a repeat infestation and personally repair all structures and surfaces destroyed by fungus.
It is very important to seek immediate mold remediation if you believe you have an infestation. Mold grows quickly, especially in dark,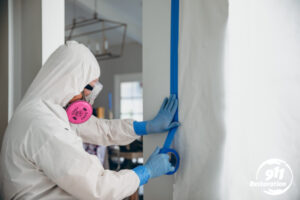 hidden spaces. As mold spreads, it breaks down the organic materials that hold your property together, including paper, wood, and glue. Not to mention, mold contamination is dangerous for your health.
911 Restoration of Southwest Houston is a licensed, insured, and bonded mold remediation contractor. We provide residential and commercial mold removal in Sugar Land, Missouri City, Katy, and beyond. Our staff is IICRC certified and extensively trained for your peace of mind.
As a locally owned and operated business, we see you as a neighbor in need. You can expect our mold inspection crew to treat you with the utmost respect and care for your property as if it were their own. We run our business with a spirit of integrity, offering clear communication and total transparency. You always know what we're doing, why we're doing it, and what it will cost.
A mold infestation can feel like a full-on invasion. You've worked hard to make your property the refuge it is, and we'll work just as hard to turn this challenge into a Fresh Start.
For expert mold remediation, count on 911 Restoration of Southwest Houston.
Mold Removal in Southwest Houston
911 Restoration isn't only a mold removal company. We are a certified Houston water damage restoration contractor. This distinction matters, because it's our background in water damage restoration that makes our mold inspection workers especially good at what they do.  Our experts understand the relationship between water damage and mold infestation. Whether you've had a pipe burst or a hidden leak, they know where to look for resulting fungus.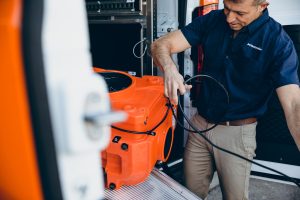 The mold inspection crew also considers the amount of time that has passed since you received water damage restoration service. Even if your water incident occurred in one area of your property, the mold that grew in the aftermath could spread to other areas. Fungi reproduce through airborne spores that can travel through vents, on clothing, and on pets. Our mold inspection professionals are extremely diligent in making sure all growth is found—not just the mold you know about.
If you ever need water damage restoration, we recommend turning to 911 Restoration. Our staff provides full-service flood restoration in Houston, including property repairs and mold remediation.
In the meantime, call us any time you believe you have a mold infestation. We'll give you and your property a Fresh Start.
Full-Service Mold Remediation in Sugar Land
You should always reach out to certified mold remediation professionals like 911 Restoration when you have a mold problem. The fungus can seem like a simple problem to fix. But no matter what you read online, a full, lasting recovery from mold requires more than a bottle of bleach. You need a multi-step approach to mold decontamination.
That's what you get with 911 Restoration of Southwest Houston.
Our mold cleanup crew begins with a comprehensive mold inspection. We examine the area where you suspect mold is growing and we follow all clues indicating the presence of a hidden colony.  Once we discover and identify your infestation, we begin the process of mold removal. Our technicians use the safest methods to prevent the spread of spores, mycotoxins, and other harmful particles.
We follow mold removal with structural dehumidifying. This process involves the use of professional fans to thoroughly dry the structure where the infestation was discovered. The procedure ensures no moisture can rise to the surface, inviting new mold growth.  Finally, if any surfaces have been stained or destroyed by fungus, our mold remediation technicians handle the repairs. Whether it's contaminated carpet or crumbling drywall, they take care of it.
Throughout this process, you should stay at a safe distance. Many property owners know the dangers of black mold but are unaware that other varieties can also pose risks to your health. This is another reason to call a trained mold specialist for mold removal. When you scrub at a colony, you put yourself in direct contact with the dangerous particles released by the fungus. It's better to stay out of the infested area until experts can eliminate the problem for you.
Mold remediation is complicated. But as long as you call 911 Restoration, the process is also fast and reliable. Call us today if you need a mold inspection in Sugar Land, Missouri City, Katy, or the surrounding communities.
Serving the communities of Katy, Missouri City, Richmond, Stafford, Sugar Land and surrounding area.