Water Damage and Mold Removal in Katy
Property owners in Katy may be up against pipe bursts, tornadoes, and even hurricanes. But they do have one major advantage in their effort to maintain a strong and beautiful property.
They have 911 Restoration of Southwest Houston.
We're here for you 24 hours a day, 365 days a year. You can reach our water damage restoration crew in the middle of the night or at noon on a holiday. Our team is at your door in 45 minutes or less… guaranteed.
We provide full service water damage restoration, mold removal, and fire cleanup in Katy and the surrounding area. We proudly serve both homes and businesses. As a locally owned and operated business, we are eager to preserve the community we love. That's why you can count on our team for top-tier service and genuine compassion.
We want to make the restoration process as easy as possible. As overwhelming as a pipe burst or fire can be, we know a little knowledge can do a lot to ease a worried mind. That's why we offer a free visual inspection (for property owners only). This consultation provides clarity regarding your flood cleanup, fire restoration, or mold remediation service. An expert on staff explains the path forward, from the services you need to the timeline you can expect.
Take advantage of our free insurance consultation. If you're not sure which services your policy covers, we figure it out for you. We even assist with inventory and loss itemization, claim filing, and direct billing. You have our full support in all aspects of the recovery process.
911 Restoration of Southwest Houston is licensed, insured, and bonded. Our staff is IICRC certified and prepared to give you a Fresh Start after every disaster.
Your property can be brand new again. All it takes is one call to 911 Restoration. Reach out today.
24-Hour Emergency Water Damage Restoration in Katy
We offer such urgent flood cleanup service because we know how quickly a pipe burst can undo years of hard work. As water seeps into the structure of your home or business, it threatens to cause costly damages. You could wind up with rotting, warping, or buckling. You may even need mold remediation services. Our water damage restoration technicians move quickly in an effort to prevent or minimize these damages. Their 24-hour availability isn't just about offering convenience; it's about limiting your repair costs.
When our flood cleanup workers arrive, they quickly assess the situation to determine the best strategy for water damage restoration. They may pack out and store any items that appear to be at risk of damage during water removal. Then, they proceed with the necessary emergency services. This could include: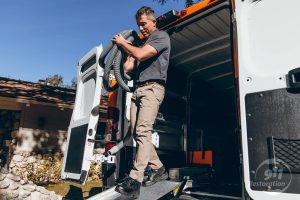 Water extraction
Sewage removal
Emergency boarding up
Storm repair
Roof repair
Leak detection
And much more
After they have completed flood cleanup, the crew sanitizes the area, dries the structure, and inspects for damage. They repair any water-related destruction themselves.
The final step of water damage restoration is a mold inspection and—if necessary—mold removal. We consider mold remediation extremely important for your recovery from a pipe burst or any other water disaster. A neglected infestation can cause major damages down the road.
You should also be aware that prompt mold removal is a matter of health for you, your family, or your employees. Mold releases dangerous particles into the air you breathe. Over time, these particles collect in your system and can cause a wide range of health issues, from asthma to heart problems.
To protect yourself and others, call the certified mold removal specialists at 911 Restoration if you suspect there is fungus on your property. Do not attempt mold remediation yourself. Do-it-yourself mold removal is not effective. You need a professional team to ensure complete decontamination and to prevent future growth.
Consider 911 Restoration your top ally for flood cleanup and mold removal in Katy. Call now, and we'll be there in 45 minutes or less.
A Recovery from Fire Damage is Easier than You Think
When your property has been nailed by fire or smoke damage, the path forward can be difficult to imagine. There is so much to be done. You need smoke removal. You need to clean your furniture and dishes. You need major repairs for fire damaged structures. You may even need flood cleanup professionals to deal with the mess the fire department left behind.
If you're feeling overwhelmed, just take a deep breath and call the fire restoration crew at 911 Restoration.
We have designed our fire damage and smoke removal services so you don't have to deal with several contractors. Our fire restoration experts do it all, from cleanup to repairs. They handle smoke removal for your dishes and furniture. They use sodablasting to eliminate soot and ash from your walls. Our fire cleanup workers remove odors permanently, take care of flood cleanup, and repair every structure in your home or business.
Throughout the entire fire restoration process, they put your mind at ease with transparent processes and clear communication. In the end, you have a property that looks like it was never touched by fire and smoke damage.
Let us help you get through this nightmare and on to a Fresh Start. Call 911 Restoration for full-service fire cleanup and smoke removal.
Servicing the cities of Katy, Missouri City, Richmond, Stafford, Sugar Land, and surrounding areas.