Water Damage and Mold Removal in Missouri City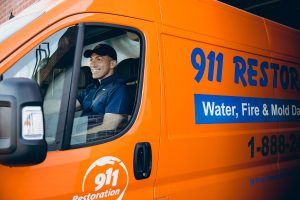 No matter how it may feel, a pipe burst, property fire, or mold infestation is not the end of the world. Not when 911 Restoration of Southwest Houston is only one call away.
We provide 24-hour service for our neighbors in Missouri City and the surrounding region. To put your mind at ease, we guarantee an arrival time of 45 minutes or less. We know the urgency you feel when you need flood cleanup. Count on seeing that urgency reflected in the swift response of our water damage restoration crew.
As a full-service restoration contractor, we pride ourselves on providing comprehensive service in any disaster. From the initial cleanup to the final repairs, we take care of all your needs. You don't have to scrape together a team of specialized contractors. Just call 911 Restoration for a Fresh Start.
Our expert technicians are IICRC certified and trained to provide a wide range of services, including:
Water removal and flood cleanup
Sewage backup cleanup
Fire restoration
Smoke removal
Fire and smoke damage repair
Mold inspection
Full property repairs
And much more
Throughout the process, we make sure you're informed and at ease. Our technicians understand how stressful a property disaster is, and they offer immediate peace of mind with compassion and clear communication. Turn to us for a free visual inspection (for property owners only) and a free insurance consultation. We accept all forms of insurance and even help you with the complicated paperwork process.
911 Restoration of Southwest Houston is licensed, insured, and bonded. We serve both residential and commercial properties throughout our region. Our business is locally owned and operated, so you can expect to be treated like a neighbor.
If you need fire cleanup, water damage restoration, or mold removal in Missouri City, the choice is clear. Call 911 Restoration today.
Residential and Commercial Water Extraction and Mold Removal
Homes and businesses have different needs when it comes to flood cleanup and mold remediation. The stakes are also different depending on whether you own a residential or commercial property. Rest assured that no matter who you are or where you are, 911 Restoration can provide the quality flood cleanup service you deserve. From private homes to vast retail spaces, we get you through this disaster and on to a Fresh Start.
Speed is of the essence whether you're trying to preserve your home or keep your business alive. That's why we're here for you 24 hours a day, 365 days a year. Our water damage restoration crew guarantees an arrival time of 45 minutes or less, so you're never left panicking as water fills your property.
Count on our flood cleanup providers for swift emergency services, such as: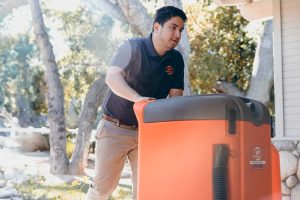 Water removal
Sewage extraction
Emergency boarding up
Packing out and storing unharmed belongings
Emergency roof or storm repair
Leak detection
Structural drying
And much more
Beyond the initial flood cleanup, our water damage restoration crew makes sure today's pipe burst or storm damage does not cause bigger problems down the road. They test your structure for rotting, weakness, and other issues. They inspect for mold. No matter what they find, our water damage restoration workers solve the problem personally.
Mold removal may be part of flood cleanup, or it can be treated as a standalone service. If you suspect you have an infestation, reach out to our mold remediation team today. Our certified mold specialists search your property for fungus. They conduct mold removal using safe procedures to prevent the spread of spores and mycotoxins. Our mold remediation professionals even treat the structure itself to prevent a recurrence.
We think of everything so you don't have to. Call 911 Restoration for full-service mold removal and flood cleanup in Missouri City and beyond.
A Full Recovery from Fire Damage in Missouri City
We know fire damage can be devastating, but don't lose heart. Our fire restoration and smoke removal crew promises quality service and a Fresh Start.
At 911 Restoration of Southwest Houston, we believe every disaster is an opportunity to start over, better than before. That's why our fire cleanup staff is so dedicated to providing full property restoration. While other companies may stop at smoke removal and general fire cleanup, we offer structural repairs. Our fire restoration technicians take care of smoke removal for your dishes and furniture. They even handle water damage restoration and mold remediation after flooding by the fire department.
In addition to providing this comprehensive fire damage repair, we offer clear answers and peace of mind. Think of 911 Restoration of Houston as your fire information center. We provide zero-cost, zero obligation advice during our free fire damage assessment (for property owners only). We take care of all your insurance concerns with our free insurance consultation and filing assistance.
Above all, our fire cleanup technicians treat your home or business as if it were their own.
For the care and service you deserve, call 911 Restoration of Southwest Houston today.
Servicing the cities of Katy, Missouri City, Richmond, Stafford, Sugar Land, and surrounding areas.