Water Damage and Mold Removal in Richmond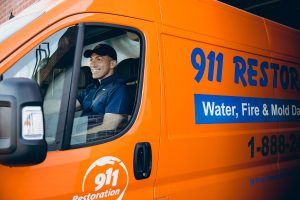 A pipe bursts in the middle of the night. As water floods your property, you feel the panic build. You're not sure who to call. You don't know if your property will ever be the same again. You don't even want to think about the cost of water damage restoration. 
It's all going to be okay. Just call 911 Restoration of Southwest Houston. We'll take it from there.
We've been providing water damage restoration and mold removal in Richmond for quite some time. We know what many property owners go through in a pipe burst, tornado damage, or any other property disaster. We also know what to do to put your mind at ease… starting with an urgent response to your call for flood cleanup.
Our expert crew is standing by 24 hours a day, every single day of the year. We guarantee an arrival time of 45 minutes or less.
To make the recovery process as easy as possible, we train our IICRC certified staff to handle every aspect of restoration. They manage water removal, mold remediation, structural repairs, and everything in between. We have fire restoration experts on staff to give you a Fresh Start after a property fire or puffback.
Along the way, we offer total transparency and clear answers. Reach out for a free visual inspection (for property owners only). A member of our staff explains your options for restoration, helping you make an informed decision for the sake of your property. We also have you covered with a free insurance consultation. Navigating your policy can be tricky, but our team is here to help. From sewage extraction to smoke removal, we clarify your coverage and help you file a claim.
911 Restoration is licensed, insured, and bonded. We serve both homes and businesses in Richmond, Katy, Missouri City, and beyond. Our business is a locally owned and operated branch of a nationwide company.
Whatever you're dealing with, you don't have to worry about recovery alone. Call 911 Restoration of Southwest Houston for quality flood cleanup, mold removal, and fire restoration.
Your Go-To Contractor for Mold Removal and Flood Cleanup in Richmond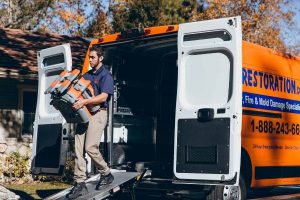 Let 911 Restoration of Southwest Houston be your top choice for water damage restoration and mold remediation.
For one thing, we do it all. Our flood cleanup technicians handle water removal, sanitization, emergency boarding up, and mold removal. They take care of all necessary repairs, from your roof to your drywall. No task is beyond their capabilities. This means you don't have to scrape together a team of contractors to enjoy a Fresh Start. You only need the water damage restoration crew at 911 Restoration.
We also serve you with true compassion. Our flood cleanup staff recognizes how much is at stake when your beloved property is hit with a pipe burst or mold infestation. They treat your home or business with care and respect. The water damage restoration staff also communicates openly with you, so you always know what's happening and what to expect. 
911 Restoration stands out above the rest because our flood cleanup specialists approach your crisis with different goals in mind. They're not just there to remove water and conduct mold remediation. They want to minimize your damage so you don't get stuck with expensive repairs. That's why our water damage restoration crew offers a 45-minute arrival time. It's also why they pack out and store your at-risk belongings.
You can expect this same level of service during flood cleanup and mold removal. Our mold specialists inspect your property thoroughly. In order for mold removal to truly protect your home or business, every growth must be discovered and eliminated. Our experts take great care to uncover all hidden colonies. They also complete mold remediation with structural dehumidifying to guard your property against future growth.
Make 911 Restoration of Southwest Houston your first and only choice for water damage restoration and mold removal.
What Does it Take to Make a Full Recovery from Fire and Smoke Damage?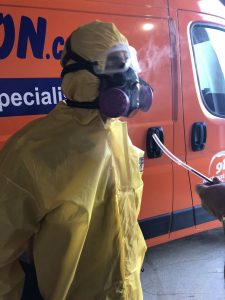 If you have smoke or fire damage, your mind must be reeling. There is so much to do to make a full recovery. It's hard to know where to begin.
The good news is, you don't have to know. Our fire restoration technicians know the best path forward. From the moment you call our fire cleanup crew, we lift every worry from your shoulders.
Consider us your fire information center. A fire damage specialist joins you for a free fire damage assessment. They look over your property and help you determine the best path for recovery. 
Our free insurance consultation gives you an opportunity to prepare financially. Our staff explains your coverage in clear terms so you know what your provider pays for. Then, they assist with inventory and loss itemization. Our fire restoration team even files a claim for you and bills your provider directly.
As for fire cleanup service, you can be certain our crew handles everything you need for a fresh start. They handle smoke removal for all surfaces, dishes, and furniture. They repair, remove, or replace all fire damaged materials. Our fire cleanup workers even clean up flooding from the firehose. 
There is no fire restoration too large or too small for our professionals.
Call us today for peace of mind and a bright new beginning.