Water Damage and Mold Removal in Stafford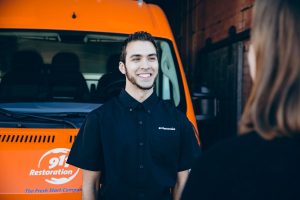 Whether you've been through a pipe burst or puffback, you need more than basic cleanup. You need full-service repairs, reliable mold remediation, and a Fresh Start.
911 Restoration of Southwest Houston provides comprehensive fire restoration, flood cleanup, and mold removal in Stafford. We serve the surrounding area with 24/7 emergency service and a guaranteed 45-minute arrival time. Our crew understands the stress you're under when water fills your property. Their driving goal is to put your mind at ease right away.
We train all members of our IICRC certified staff to provide complete property restoration in any crisis. One call to 911 Restoration is all it takes to make your home or business brand new again. We serve residential and commercial properties in Stafford, Katy, Missouri City, and throughout the region.
Our crew believes clear communication is as important at skillful workmanship. So we make sure you have all the answers you need, when you need them. Call to request a free visual inspection (for property owners only). A restoration expert visits your property, surveys your damage, and discusses the best path forward. This is a zero-cost, zero-obligation, zero-pressure consultation.
When you decide to work with 911 Restoration, you can benefit from our free insurance consultation. It isn't always clear which water damage restoration or fire cleanup services your provider pays for. Our experts get to the bottom of it and explain your coverage in clear terms. Then, we walk you through the claim process to make sure you get all the support to which you are entitled.
As a locally owned and operated business, we are dedicated to serving our neighbors with compassion. 911 Restoration is license, insured, bonded, and your local branch of a respected nationwide company.
Whether you've been through a pipe burst or a tornado, let us offer you peace of mind and a Fresh Start. Call 911 Restoration of Southwest Houston today.
A Fresh Start After Water Damage and Mold Contamination
Many property owners wonder if their home or business can ever be the same after water damage. They know how damaging a pipe burst can be. Even a seemingly minor leak can cause mold contamination or costly structural issues.
Rest assured that your property can be brand new after a water-related incident. You just have to call the expert flood cleanup crew at 911 Restoration.
We move at top speeds to minimize water damage and limit repair costs. Our water damage restoration experts offer a wide range of flood cleanup services, such as: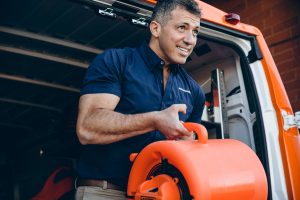 Emergency roof repair
Storm repair
Boarding up
Leak detection
Water extraction
Sewage cleanup
Sanitization
Structural drying
And much more
In addition to fast flood cleanup, our water damage restoration professionals take great care to repair all damages. They check for problems such as rotting, warping, or weakness in the structure. The water damage restoration crew is equipped and qualified to manage all repairs, including drywall replacement and carpet removal.
In addition to flood cleanup, we offer comprehensive mold remediation. Whether your infestation is the direct result of a water disaster or you merely discovered unexplained mold growth, give us a call. Our mold removal workers take care of your problem using safe, effective methods.
Be wary of any do-it-yourself mold removal methods you read about online. Carpet steaming actually encourages a repeat infestation. Scrubbing at a colony with bleach puts you at risk of inhaling dangerous particles released by the agitated fungus.
For truly effective mold remediation, you need a certified mold removal expert. Our crew conducts a multi-step process to ensure all growth is found, eliminated, and gone for good. After mold removal, our workers dehumidify the structure to prevent future infestations. They even repair or replace all mold damaged surfaces.
You worked hard to make your home or business beautiful. Let us keep it that way. Call now for excellent mold remediation and water damage restoration in Stafford and beyond.
Count on 911 Restoration for Comprehensive Fire Restoration in Stafford
No matter how you may feel in the wake of a fire or puffback, please know that all is not lost. 911 Restoration of Southwest Houston is here to provide comprehensive fire restoration so you and your property can have a Fresh Start.
The process for fire cleanup and smoke removal varies depending on the nature of your fire damage. In general, you can expect something like this:
A fire and smoke damage expert provides a free fire damage assessment and explains the needs of your situation. Once you agree on a strategy, our fire cleanup crew gets to work. The first order of business will be packing out any belongings that were spared from smoke damage. Our fire restoration crew stores these items for safekeeping during the smoke removal process.
Smoke removal and fire damage cleanup typically involves sodablasting to remove soot and ash from surfaces. Our workers also clean your dishes and furniture. Smoke removal often helps eliminate odors, but our crew may need to use additional processes to permanently remove the foul smell of smoke damage.
We take care of any structural repairs you may require. When you're trying to recover from a fire incident, the last thing you need is to juggle multiple contractors. We make sure our technicians are prepared to do whatever it takes to make your home or business new again.
A Fresh Start is waiting for you. Call 911 Restoration of Southwest Houston for comprehensive fire and smoke damage restoration.
 Servicing the cities of Katy, Missouri City, Richmond, Stafford, Sugar Land, and surrounding areas.