Water Damage and Mold Removal in Sugar Land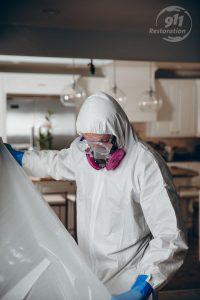 Life is pretty good in Sugar Land. We have friendly neighbors and beautiful properties. The only downside is the fairly constant threat of property damage. Storms, tornadoes, fires, and floods can have devastating effects on both homes and businesses. Pipe bursts and mold contamination are all too common as well. Fortunately, there is good news for property owners in Sugar Land and the surrounding area:
911 Restoration of Southwest Houston is always one call away.
We provide emergency restoration service 24/7/365. Our crew guarantees an arrival time of no more than 45 minutes, so you can feel at ease immediately.
Every member of our IICRC certified staff is highly trained to cover all your bases, from water and smoke removal to roof repair and mold remediation. We hold our workers to the highest standard of service. As a locally owned and operated business, we don't just see you as a customer. We see you as a neighbor. And when we preserve your property, we're preserving the beauty of the community we love.
911 Restoration provides comprehensive fire restoration, flood cleanup, and mold removal in Sugar Land, Katy, and the surrounding area. We are licensed, insured, and bonded. Our highly trained technicians service both residential and commercial properties, and they do it with compassion. You've put years of hard work into making your home or business shine. We understand how devastating any disaster can be, whether it's a massive pipe burst or a minor leak.
Our goal is to help you find peace and clarity in this difficult time. That's why we offer a free visual inspection (for property owners only). Let an expert on our staff review your options. There is no pressure and no obligation. You may also benefit from our free insurance consultation and assistance. 911 Restoration is proud to work with all providers so we can serve every neighbor in need.
No matter how it may feel, your property's best days are far from over. Call 911 Restoration of Southwest Houston for a Fresh Start.
Business and House Flood Cleanup in Sugar Land
It doesn't matter if you own a house, an apartment, or a retail facility. You can get 24-hour water damage restoration and flood cleanup from 911 Restoration of Southwest Houston.
We ensure our technicians are prepared for any eventuality. Turn to us for:
Water removal
Sewage extraction
Sanitization
Structural drying
Emergency boarding up
Emergency roof and storm repair
Leak detection
And much more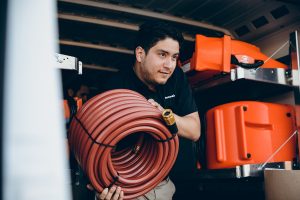 911 Restoration is more than a flood cleanup service. Our water damage restoration process spans all your needs, including carpet removal, drywall repair, and mold remediation. Your dedicated water damage restoration crew is determined to provide a Fresh Start. That means leaving your home or business in top condition. After flood cleanup, our experts test your structure for damages. Pipe bursts and similar disasters may cause rotting, warping, and weakness. Our water damage restoration workers repair your property as needed, so you can enjoy a home or business that feels and looks brand new.
Mold removal is an important aspect of flood cleanup. It's also an essential service for anyone who suspects they have a mold infestation, regardless of the cause. If you need mold remediation, call 911 Restoration right away. Resist the temptation to handle decontamination yourself. Only our certified professionals can offer you the comprehensive service you need for peace of mind.
Our mold remediation process features several steps. First, our specialists inspect your property to uncover even the most hidden colonies. Then, they tackle mold removal using cutting edge techniques and equipment. Once they've completed mold removal, our experts dehumidify the site of the infestation to prevent a recurrence. Finally, they provide any needed repairs for fungus-related damage.
From water damage restoration to mold removal, count on 911 Restoration of Southwest Houston.
Compassionate Fire Restoration and Complete Smoke Removal
From property fires to puffbacks, fire and smoke damage can make your precious property feel like it's not even your own anymore. We understand… and we can help.
Turn to 911 Restoration of Houston for quality fire restoration in Sugar Land and the surrounding communities. Our smoke removal experts work diligently to fully restore your home or business. They eliminate ash, soot,and smoke. They repair fire damage. They even handle permanent odor removal, whether it's part of the fire restoration process or simply a remedy for a cigarette-contaminated space.
You can expect top quality service from our fire damage team. All workers are trained in the most advanced fire cleanup and smoke removal techniques, including sodablasting. They can manage any type of repair for any structure on your property. They even manage water damage restoration if the firehose flooded your home or business.
Of course, we believe excellent service is more than skilled fire damage repair. Our smoke damage technicians offer compassionate, attentive service. Their ultimate goal is to put your mind at ease.
Let us make your property your own again. Call 911 Restoration today.
Servicing the cities of Katy, Missouri City, Richmond, Stafford, Sugar Land, and surrounding areas.