Can Humidity Cause Water Damage? What to Do About it?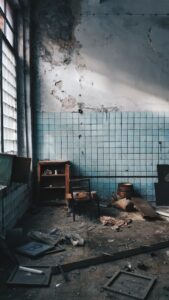 Homes in the US leak over one trillion gallons of water each year. Water damage occurs when excess water begins to pool in different areas of the home. Each day, around 14,000 people in the US experience water damage at home or work. It is estimated that around 98% of the basements in the US will experience some sort of water damage at least once during their lifetime.
Though 40% of homeowners have experienced some sort of water damage, the good news is that 93% of the damages could have easily been prevented. Before discussing the ways you can prevent water damage, it's important to discuss the causes too.
Let's dig in!
How Can Humidity Cause Water Damage?
If you are wondering if humidity can cause water damage, the answer is yes, it can. High humidity can cause water damage and other various damages to your house if relative humidity regularly exceeds 60%. Moisture collects as condensation when the humid air contacts the cool surface. Enough condensation results in mold growth, paint and wallpaper damage, and floor damage, by allowing the moisture to penetrate.
Constant moisture in the home can also cause damage to the furniture and furnishings, either by stains or causing decay. The only way you can avoid water damage caused by humidity in your house is by reducing the humidity levels effectively. Also, keep in mind that home restoration after water damage is important, especially if you want to quickly move back into your house.
Other Common Causes of Water Damage
Clogged Gutters
Gutters are meant to draw away rainwater from your house. A clogged gutter can cause water to overflow and run down the side of the house. This can result in serious property damage. Therefore, it is of utmost importance to thoroughly clean your gutter, especially before the monsoon.
Leaking or Damaged Pipes
One of the most common causes of water damage is leaking or burst pipes. Water damage caused by a leaking pipe can damage an entire wall. Therefore, it is of utmost importance to be on the lookout for cracks, stains, and other signs of excess moisture on the walls and ceiling. Sometimes a pipe can burst because of freezing temperature or change in water pressure.
Faulty Appliances
As appliances get older, their pipes get damaged, and rust. Dishwasher leaks can damage your kitchen floor and lead to warped wood and even mold growth. If you find mold in the house, there's no way you should wait to call any of the home restoration companies for mold removal.
Sewage Backups
After heavy rain, it's not uncommon for sewage systems to be unable to handle the volume of water. Sewage can back up into your home through toilets, sinks, and floor drains. It might not seem like it, but this is a very serious situation that can be only the professionals handle.
HVAC Units
Heating and air conditioning systems can cause serious water damage in your house. When not maintained properly, HVAC units can cause moisture accumulation, which can result in a disastrous leak.
Ways to Protect Your Home From Water Damage
Regularly clean the gutters as they are responsible for keeping the water away from your house.
Make sure you keep the sinks and drains in excellent condition.
Keep an eye on your appliances for leaks, especially the old ones. It's recommended to replace the appliances every 10 to 15 years to prevent water damage and mold.
Before leaving the house, shut off your water main.
Install leak detectors, so they can alarm you if there's a leak in your house.
Keep an eye on your sump pump to ensure that it's turning on and removing water when it should.
Install an electronic water leak direction system on the main water supply line to monitor water pressure, temperature, and flow.
Install moisture meters in the areas of your home that are prone to water leaks
Be on the lookout for the signs of water leakage around the chimney.
Use a smart thermostat to maintain a minimum of 10 degrees Celcius in your home to prevent the pipes from freezing.
Once you find any water leaks in your home, don't delay repairing them.
Install gutter guards, especially during the wet season to prevent blockage and keep the water away from your house.
Once you notice a crack on the wall, make sure you chalk it right away.
Replace copper pipes with corrosion-free pipes as once the copper pipes get damaged, they result in a steady water leak.
Install a snow shield under the shingles to prevent leaks.
Do You Require Water Damage Restoration Services in Southwest Houston?
Home restoration companies offer quick water removal and reduced drying time. If you are planning to do home restoration after water damage on your own, keep in mind that you will be doing more harm than good. If you are seeking expert guidance and quick results, look no further than 911 Restoration of Southwest Houston. Their team arrives at the location within 45 minutes to help with structural repairs and even mold removal.