Understanding Fire and Water Damage Restoration Companies: An Inside Look at 911 Restoration
Fire and water damage restoration companies are professional entities dedicated to restoring residential and commercial properties following various forms of disaster. These companies, like 911 Restoration, offer specialized services to assist homeowners and businesses in recovering from the aftermath of damaging incidents.
Roles of Fire and Water Damage Restoration Companies
The roles of fire and water damage restoration companies are multifaceted. First, they act to mitigate the immediate damage, preventing further loss and starting the restoration process promptly. This process includes tasks such as water extraction, smoke and soot removal, and emergency board-up services.
Restoration of the property is the next key role. This involves restoring the property to its pre-damage condition using a variety of techniques, including structural repairs, deodorizing, drying, and cleaning.
These companies also act as consultants and liaisons with insurance companies. They can provide expert advice on dealing with the aftermath of fire or water damage, and help clients navigate the often-complex world of insurance claims.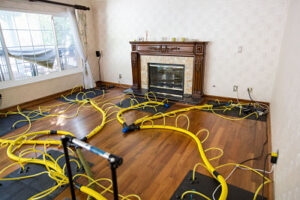 Services Offered
Fire and water damage restoration companies offer a range of services. These include fire damage restoration, which encompasses smoke and soot removal, structural repairs, and odor removal.
Water damage restoration is another major service, including water extraction, drying, dehumidification, and restoration of water-damaged areas. Other services include mold remediation, which involves identifying, treating, and removing mold, and disaster recovery, helping properties recover from large-scale events such as floods or storms.
Understanding the Process of Restoration
The restoration process typically begins with an initial assessment. This includes identifying the extent of the damage, devising a restoration plan, and estimating the cost.
The next phase is the cleanup and repair stage. Here, professionals execute the plan, removing any water, soot, or damaged materials, and begin repairing the property.
Lastly, during inspection we ensure all work has been completed to a high standard and the property is safe for reoccupation.
We Handle Your Needs with Care backed by Great Communication
911 Restoration is a prime example of a fire and water damage restoration company that adheres to these principles. 911 Restoration executes the restoration process with a keen focus on customer service, ensuring clients are informed and reassured throughout. We assess the damage, swiftly move into action to clean up and repair. We always perform a thorough final inspection to guarantee our clients' satisfaction.
Understanding the roles and processes of fire and water damage restoration companies is critical when faced with property damage. IICRC-certified professionals, like 911 Restoration, offer invaluable services to bring your property back to its original condition and help you navigate the recovery process.
At 911 Restoration, we understand the importance of great communication during a stressful emergency. We strive to keep our clients informed and comfortable throughout the restoration process, easing their concerns and providing reliable, high-quality services when they're needed most.